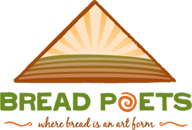 Bread Poets Baking Co. announces franchising
Posted 10/14/08 (Tue)
BISMARCK, ND: After 10 years of experience refining systems and recipes, Bread Poets Baking Co. is proud to announce it is beginning to franchise its retail specialty bread bakery concept.

"We have been blessed with tremendous growth" says owner Jon Lee "and this was the next logical step for us to take. There's a tremendous opportunity for us to duplicate what we've been doing in Bismarck across the country. It's an exciting time for us and we look forward to what the next 10 years will bring."

Lee, the founder of Bread Poets Baking Co., will head up the franchising division which entails processing applications, training and bakery development. Damon Heupel has been named the manager of the retail bakery division and will oversee day-to-day operations at the Bismarck location. Bread Poets is registered to franchise in 37 states. The franchising headquarters will be in Bismarck, ND.

"This is another way for us to spread the word about one of North Dakota's greatest assets – our wheat farmers," Lee says.

Bread Poets Baking Company is a relatively new and exciting concept to the Bismarck-Mandan area. Bread Poets is the only operation of its kind in that its soft crust breads are not only unique to this part of the country but to the world. We are a retail bakery specializing in fresh, stone-ground whole wheat bread products. The wheat is milled daily in our bakery to provide the freshest bread possible. Over 70% of the flour used in Bread Poets products comes from North Dakota. Each loaf is made the old-fashioned way, for a bread experience that is truly out of this world!

Bread Poets Franchising is taking applications at its home office in Bismarck, ND. Additional Bread Poets franchise information can be found on the web at www.breadpoets.com or you can contact us at 701-222-4445.