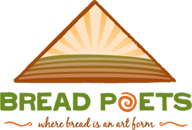 Bread Poets announces new scone line-up
Posted 2/27/07 (Tue)
Bread Poets Baking Co. announces it's new scone line-up beginning in March 2007. The new varieties are as follows:

Tuesdays - Cranberry Walnut
Wednesdays - Chocolate Vanilla Chip
Thursdays - Cinnamon Chocolate Chip
Friday - Blueberry Vanilla Chip
Saturday - Cranberry Orange

Each scone is every bit as delicious as the next. We promise you won't be disappointed. Stop in and try one today!