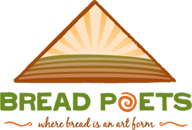 what are we looking for in a good candidate?
To be a successful owner you must be proficient at the managerial duties (white collar) but not be afraid to roll up your sleeves and put in a hard days work (blue collar). Quite frankly, it's not for everyone but if you are a multi-tasker and don't mind getting a little flour on your apron, it may be the opportunity you've always dreamed about. You absolutely must be able to handle the physical demands of being on your feet all day, lifting 50-pound sacks of flour, heaving dough onto the forming table, cleaning the dishes, scrubbing the floor and still smile like it's your wedding day!
What is your initial investment?
What are the demographics for a Bread Poets franchise?
What are the franchise fees and royalties?
For more info contact:
Jon Lee
e-mail: jon@breadpoets.com
phone: 701-751-POET